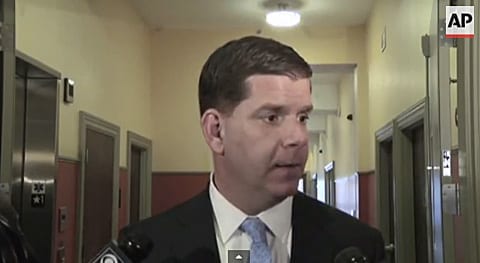 In a deal brokered by Mayor Martin Walsh, organizers of South Boston's St. Patrick's Day parade have invited MassEquality, an LGBT rights group, to march in this year's parade , with one condition, the Boston Globe reports:

The group, MassEquality, could not wear T-shirts or hold signs that include the word gay or refer to sexual orientation.
The paper adds:
In an interview Friday night, Walsh hailed the MassEquality invitation as a major breakthrough in a city that has become increasingly diverse in recent decades. He minimized the significance of the rule barring references to sexual orientation and said he would meet next week with parade organizers and MassEquality to work out details about signs and T-shirts.

"This is probably the biggest step in 20 years," Walsh said. "I'm really encouraged. We're going to talk about how we can make this happen, how we can make this a reality."
The parade is scheduled for March 16. The groups are hopeful they can come to an agreement on signage and T-shirts.
Watch Walsh give an interview on Thursday about his refusal to march in the parade unless gay groups are included, AFTER THE JUMP...