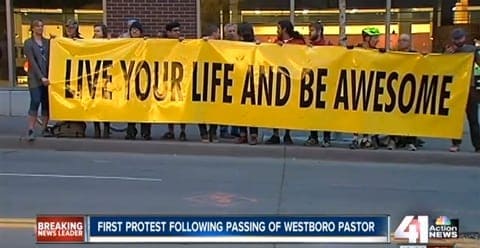 A day after Fred Phelps the founder of the "God Hates Fags" Westboro Baptist Church died, the church decided to protest a Lorde concert in Kansas City for "serving herself and teaching other young people how to be indolent rebels." They also made an awesomely tone-deaf cover of Lorde's "Royals", but we digress.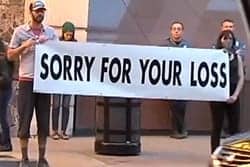 Lorde tweeted to her fans that she wanted a counter-protest in response, but she later deleted that tweet. Nevertheless, local counter-protesters showed up to the venue holding signs reading "Sorry for your loss" and "Live your life and be awesome." 
As one protester told the KSHB news station, "I think if people are forced to have stare at [the WBC's hateful signs], they should have the option to have something good to look at." Protester Megan Coleman also said, "We realized that it wasn't so much about antagonizing them (the WBC), but sending out the counter message that we are here for people who need that message and need that positivity."
Sadly, one of the Westboro members feigned ignorance as to what the counter-protest signs were even in reference to.
See a video of the counter-protest AFTER THE JUMP...