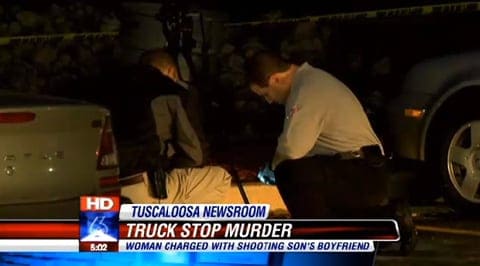 An Alabama woman has been charged with murder after shooting her son's boyfriend in the back at a truck stop, WBRC reports:

The victim, Jamie R. Johnson, 36, had been shot once and was transported to UAB Medical West in "grave condition," according to Sgt. Dale Phillips with the Tuscaloosa Metro Homicide Unit. Johnson passed away from his injuries.

Anita T. Hill (pictured), 51, of Pickens County, has been charged with murder in the case and was booked on a $75,000 bond. She has since bonded out of jail. Investigators have determined that Hill's son and Johnson were "involved in a long-term relationship" and had been together for about four years.

"This relationship has caused tension between the suspect who is the mother of the male witness and her son," Phillips said.
Hill reportedly shot Johnson in the back after a short argument and there are reports of ongoing mental and physical abuse between the two men but those allegations have not been corroborated yet by any charges on record.
Watch the WBRC report, AFTER THE JUMP...