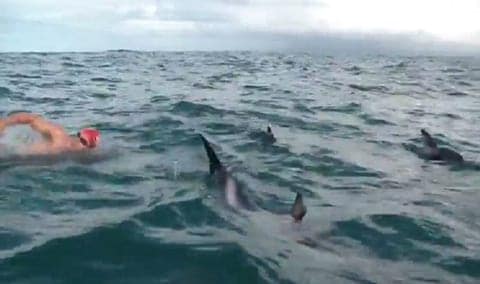 A two-meter shark closely followed British distance swimmer Adam Walker during his 8 hour, 36 minute swim through the Cook Strait separating New Zealand's north and south islands this week.
Luckily, a pod of nearby swimming dolphins surrounded him, and the shark took off, says Walker. The dolphins even swam close enough to Walker for them to brush up against his body.
Said Walker on land: "I'd like to think they were protecting me and guiding me home.  This swim will stay with me forever."
Walker is planning to be the first British swimmer to swim seven oceans. He is doing it to raise money for the Whale and Dolphin Conservation Society.  In the past Walker has also successfully swum across the English Channel, the Molokai Channel, the Strait of Gibraltar, the Catalina Channel, and the Tsugaru Channel.
Watch video of the dolphin pod AFTER THE JUMP…