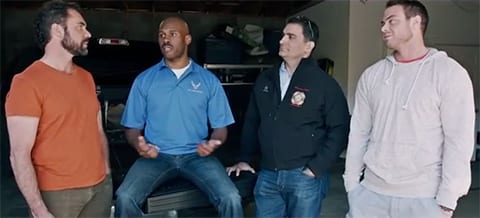 Why Marriage Matters Colorado — a new effort organized by the LGBT PAC One Colorado, the American Civil Liberties Union of Colorado, and the national marriage equality group Freedom to Marry — just released their first advertisement. It features active and retired military servicemembers discussing why they support equal rights for one of their gay troopmates.
The video's description reads:
Three military veterans who, together with their friend, U.S. Air Force Master Sergeant T. Ashley Metcalf — who is still actively serving his country — represent 45 years of military service. Sgt. Metcalf is gay, and his band of brothers — former Army Staff Sgt. Izzy Abbass, retired U.S. Air Force Senior Master Sgt. Dennis Mont'Ros, and former Marine Sgt. Will Glenn — talk about the importance of the freedom to marry for everyone.
Colorado currently has a constitutional amendment banning same-sex marriage. Why Marriage Matters Colorado says, "We can win marriage either by amending the constitution by a vote of the people or by winning in the courts. Both paths are being pursued simultaneously. Whatever our path, it's important to have this public conversation about why marriage matters to us all."
Watch the video AFTER THE JUMP…