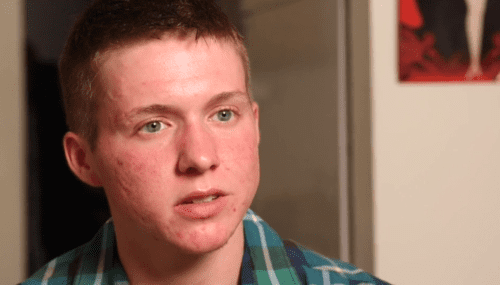 The repeal of "Don't Ask, Don't Tell" in 2011 may have eliminated the discriminatory military policy for gays, lesbians and bisexuals, but not for everyone in the LGBT community. Sadly, transgender service members can still be dismissed from the armed forces.
The Washington Post reports:
Transgender service members can still be dismissed from the force without question, the result of a decades-old policy that dates back to an era when gender nonconformity was widely seen as a mental illness.

The policy, however, is now coming under scrutiny as service members like Wilson become more visible. Transgender service members are increasingly undergoing procedures to align their bodies more closely with the genders with which they identify. Medical experts, meanwhile, are urging the Defense Department to rescind a policy they view as discriminatory and outdated, noting that some of America's closest allies, including Canada, Britain and Australia, have done so seamlessly.

Although the American Psychiatric Association revised its manual last year to indicate gender nonconformity is "not in itself a mental disorder," the Defense Department relies on guidelines that describe transgender individuals as sexual deviants, and their condition as a "paraphilia." Thousands of transgender men and women are now serving in the military while remaining in the closet, according to studies.
Some background on how activists approached the fight to repeal DADT several years ago:
Although transgender service members were avid supporters of the repeal, activists who led the effort were careful not to inject the plight of transgender service members into the debate.

"There was a certain reticence to discuss it in any official way with stakeholders for fear of complicating the repeal of Don't Ask, Don't Tell," said Allyson Robinson, a former Army officer and transgender activist. "There was a very clear awareness among all the organizations that worked on Don't Ask, Don't Tell that this issue was going to remain outstanding."
While it's estimated that approximately 140,000 transgender people have at one point served in the U.S. military, no statistics are available on the number dismissed from the military.
A Pentagon spokeswoman, Lt. Col. Cathy Wilkinson, said the Defense Department does not know how many service members have been discharged for being transgender. She said the Pentagon has no plan to change its medical qualification standards based on the changes to the psychiatric association's entry on gender disorder, but she noted that medical policies are being constantly reviewed.
AFTER THE JUMP, watch a Washington Post news segment about Landon Wilson, a 24-year-old transgender service member who was dismissed from the military just last month.