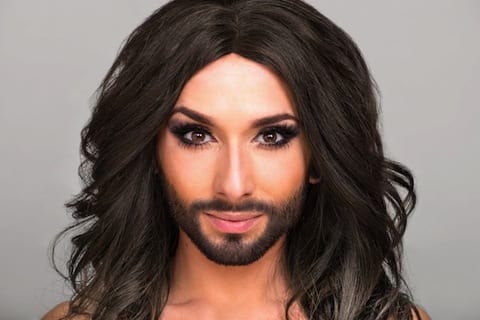 Drag performer Conchita Wurst was an unlikely but bold choice for Austria's entry into the 2014 Eurovision contest, and while her entry hasn't stirred up much scandal among Western attitudes, Eastern Europeans are taking offense to the bearded gender-bending performer's presence. People in Belarus, Armenia, and Russia - of course - have started petitions to have her removed from the show, or at the very least edited out of the broadcasts to their country (which could make for a problematic viewing experience depending on how far she advances). Armenian Eurovision contender Aram MP3 even said Wurst's way of life was "not natural" and she should decide to be a woman or a man, though he later apologized and claimed his statement was "a joke."
Wurst remains undeterred and intends to continue, beard and all. Speaking of the beard, she keeps it on for a very explicit purpose:
The beard is a statement to say that you can achieve anything, no matter who you are or how you look.
Check out Conchita Wurst's Eurovision entry "Rise Like a Phoenix", AFTER THE JUMP...