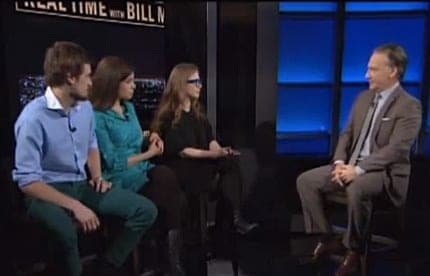 Masha Alyokhina and Nadya Tolokonnikova of  Russian protest group Pussy Riot sat down with Bill Maher last night, Mediaite reports:
The extended conversation, with translation help from Tolokonnikova's husband Petr Verzilov, touched on a lot of issues, but one particularly funny moment call when Maher asked the group, "What is with the gay hate over there?"

"Vladimir Putin talks a lot about, 'we've got to check the gays,'" Maher continued. "And in my experience, any time somebody talks a lot about how we have to get the gays in line, I mean, it turns out that they're really gay themselves. I mean, every time I see a picture of Putin, he's got his shirt off."

"People think that that might be the case," Alyokhina said to Maher's genuine surprise. "So far we haven't seen his active side of that, in that area."
Watch, AFTER THE JUMP...