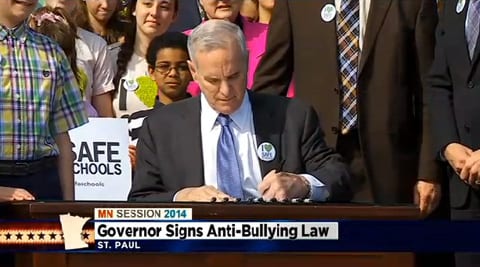 Minnesota Governor Mark Dayton today sign a bill strengthening the state's anti-bullying bill after the legislature passed it in a late night session Tuesday night, WCCO reports:
The bill requires school districts to track and investigate cases of bullying and directs schools to better train staff and teachers on how to prevent it. Current law requires school districts to have a bullying policy but doesn't include details on what the policy should contain.
...The far-reaching law includes 19 bullying categories, from physical appearance to welfare families to sexual orientation and gender identity.
Watch Dayton sign the bill in WCCO's report, AFTER THE JUMP...