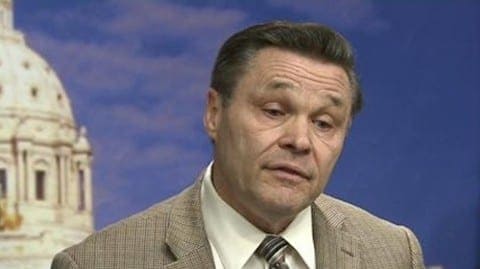 Michelle Bachmann isn't the only crazy anti-gay lawmaker in Minnesota: Rep. Glenn Gruenhagen, R-Glencoe, created and distributed a video called "Sodomy, Health, Money, and HF-826" that contains enough disinformation and lies to make the Bachmann's look informed and upstanding. Among the many insane claims are:
An enzyme in sperm causes AIDS when introduced to the digestive tract
Homosexual men have an average lifespan of 41 years
Words like "sexual orientation" and "gay," "lesbian," and "bisexual" are "triggers for the hormone dopamine in children like pornography in adults"
HIV can be spread through sweat, tears, and saliva
He doesn't explain why, if AIDS is caused by an enzyme in sperm introduced to the digestive tract, more straight women aren't afflicted with the disease, nor does he explain how the virus moves from the bloodstream into tear ducts, sweat glands, or salivary glands - environments that are completely inhospitable to the virus and would kill it in short order.
The lifespan statistic is a misquote of Paul Cameron's discredited research which made its estimate by only pulling data from San Francisco obituaries during the AIDS crisis, which is akin to claiming that if the average age of mortality for children under 18 in Tennessee is 4.7 then the average lifespan for children is 4.7 years.
Gruenhagen has been endorsed by the Republican Party of Minnesota for reelection this year. You can watch the videos of his insane claims AFTER THE JUMP...