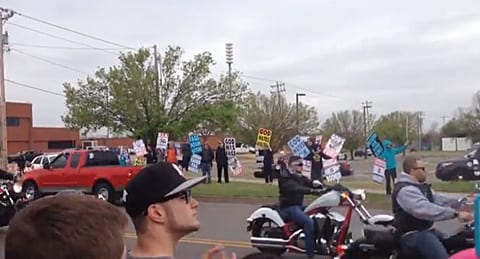 The Westboro Baptist Church  came to Moore, Oklahoma on Sunday afternoon to picket in front of Plaza Towers Elementary School, saying that God sent a deadly tornado last year in retribution for America's tolerance of gay people. The 2013 tornado killed 24 people.
Hundreds of people came to counterprotest the church, and, as you can see from the video, things almost turned violent as several residents tried to cross the street and were challenged by police officers before the WBC church members turned tail and ran.
WBC had a permit for a 30 minute picket, but it lasted 8, according to local media.
After Westboro fled, a woman leading the counterprotest reprimanded several members of the crowd for threatening to take matters into their own hands, asserting that the purpose of the counterprotest was to raise money for the school so that the kids could buy computers.
Watch the video, AFTER THE JUMP...