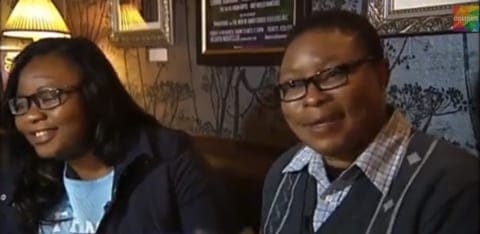 Aderonke Apata (pictured above at right with her current fiancée) fled Nigeria 10 years ago when her family and girlfriend were murdered. Apata was sentenced to death for being gay. In fact, she has scars upon her head and back from where she's been beaten and stabbed by boys in her community disgusted at her being a lesbian.
After having her pleas for asylum rejected twice by the United Kingdom, she now has just two weeks to convince the UK Home Office that she will be killed if sent back to Nigeria. In part, she has to prove that she's actually a lesbian by enduring extensive, intrusive interviews about her sexual behavior (we're talking questions about penetration, positions and what she does and does not enjoy in bed).
Apata says that some asylum seekers even go to the degrading extent of recording themselves having sex just to prove beyond a shadow of a doubt that they are in fact gay.
On March 28th of this year, Home Secretary Teresa May announced that the UK asylum system will be reviewed and reformed so that questions focus on sexual orientation rather than behavior. But while that reform may help people in the future, there's a petition asking the UK Home Office to grant her asylum now.
Watch the video AFTER THE JUMP...