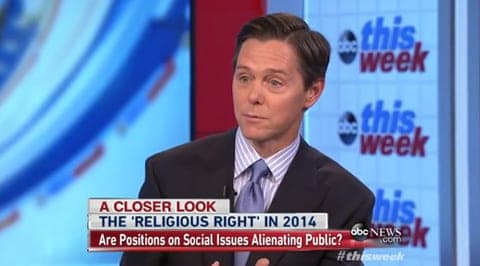 Franklin Graham and Ralph Reed brought their anti-gay hate to ABC's This Week today, in a discussion about gay adoption and gay parenting, introduced by focusing on Russia's draconian adoption laws.
Said Reed: "The social science on this is clear. This isn't about Vladimir Putin, this is about what's best for children here in the United States. The social science is irrefutable: a child who grows up in a home without the mother and father present, and they both very unique procreative, nurturing, and socializing roles, they're nine times more likely to end up dropping out of high school; they're five times more likely to end up in poverty; and they're three times more likely to end up addicted to drugs and alcohol."

Said Cokie Roberts: "But the social science is also irrefutable that a child raised in an orphanage is in much worse shape than a child raised in a home. And the fact that people are willing to take these children and raise them, and raise them in a loving way, is clearly better for these children."
Asked Martha Raddatz: "Would you agree with that? Would you rather have a child sitting in an orphanage than have gay parents?
Said Reed: "I think the social science is just simply not in yet on same-sex couples. I think the law has every right to set an ideal. And the ideal is a mother and a father."
Watch, AFTER THE JUMP...
(via jmg)