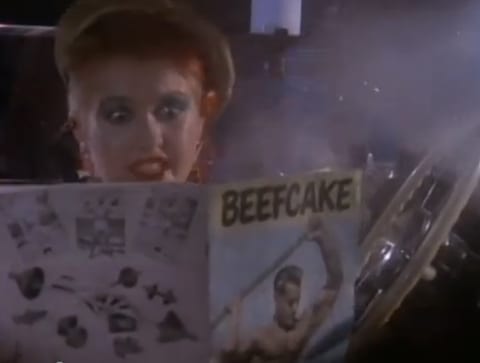 In September 1984, Cyndi Lauper's single "She Bop" reached number three on the U.S. Billboard's Hot 100 — not bad for a song about female masturbation.
In a recent interview to promote her new two-disc release of She's So Unusual: A 30th Anniversary Celebration Lauper revealed that she actually got the idea for the song from a drunken associate and by fingering through the pages of a Blueboy gay porn mag. Hence the lyrics:
Well I see them every night in tight blue jeans
In the pages of a Blueboy magazine
Hey I've been thinkin' of a new sensation
I'm pickin' up good vibrations
Oop she bop she bop
Do I wanna go out with a lion's roar?
Huh, yea, I wanna go south and get me some more
Hey, they say that a stitch in time saves nine
They say I better stop or I'll go blind
Oop she bop she bop
Lauper has also said she recorded the "She Bop" vocals while nude and "tickling herself" in the studio. The late 80s era Parents Music Resource Center included the song in their "Filthy Fifteen" list of songs they found most objectionable. PMRC went on to create the parental guidance warning sticker system placed on albums with "objectionable" content — you know, songs about sex, drugs, violence, or the occult (the things that make music awesome).
Watch the videos AFTER THE JUMP…
Cyndi Lauper on the creation of "She Bop"
Cyndi Lauper's "She Bop"