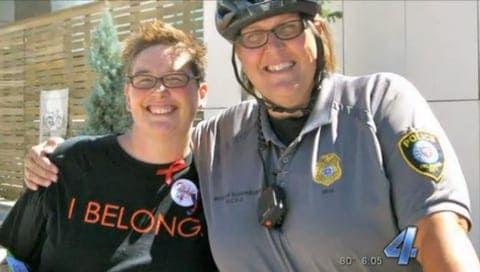 Transgender Oklahoma City police officer Paula Sophia is making history in the Sooner state, KFOR reports:
Paula Sophia is running for house district 88 after spending twenty-two years on the Oklahoma city police force. It's the same area she patrolled as an officer until her resignation on Monday. Now she says its time to serve in a different way.
"I was a community oriented police officer, now I'm going to be a community oriented legislature," says Sophia.
Sophia says she wants to focus on a number of issues stating, "I have a deep concern about peace and justice, about respecting the dignity of every human being and I still deeply believe in those issues."
One issue she has no concern about is being the second transgender woman to run for a house seat. The first was her campaign manager.
Watch their report, AFTER THE JUMP...