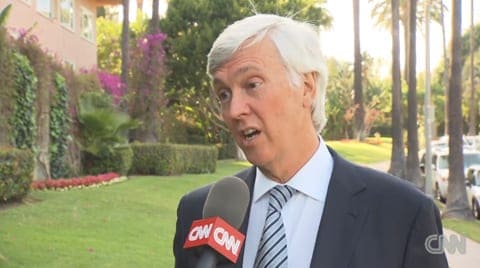 Thanks to Brunei's completely insane decision to stone people convicted of homosexuality, the celebrity-centric Beverly Hills Hotel is now the focus of a boycott as its umbrella group is owned by Sultan Haji Hassanal Bolkiah of Brunei, one of the wealthiest men in the world. Given that Beverly Hills Hotel plays host to the entertainment industry elite, there is a lot of money to be lost by this boycott, particularly since it has attracted big names such as Ellen DeGeneres, Jay Leno, Sir Richard Branson, Sharon Osborne, and Stephen Fry, as well as a variety of high-end awards dinners and fundraisers.
CEO of parent company the Dorchester Collection Christopher Cowdray is calling foul, that the hotel itself has done nothing wrong to deserve the boycott. Said Cowdray in a report on Tuesday's CBS This Morning:
I feel totally unfairly picked on. All they are doing is hurting a local business.
Which, of course, is the entire point of a boycott: witholding financial support in hopes that the lack of business will prompt a company to change whatever it is that prompted the boycott in the first place. In this case, either encouraging Brunei to revoke its evil new "Kill the Gays" law (unlikely), or at least prompting the Dorchester Collection to rescind ownership of the hotel and thus cutting off a source of income to a man who has enshrined into law the bloodthirsty persecution of gays (more likely).
As of this writing Sultan Bolkiah has not made any public comment or acknowledgment of the boycott, though the Dorchester Collection has gone into PR damage control with Cowdray releasing this statement:
We have a truly global economy today. Look at all the foreign investments in hotels and real estate. Our hotels are autonomously run and in that way not tied to Brunei. Religious or political views have no place in our organization.
Watch Cowdray speak to CNN, AFTER THE JUMP...