Looks like there'll be a coming out moment in How To Train Your Dragon 2. According to the film's director, Gobber the Belch, voiced by Craig Ferguson, will reveal that he's gay in the upcoming sequel.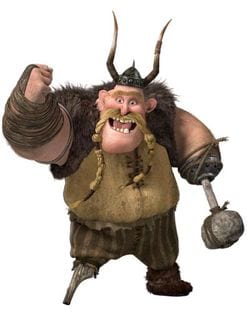 E! News reports:
While watching a husband and wife bicker, Gobber says that's why he never got married—and then he simply adds there's one other reason. He doesn't explain anything further, but Dragon 2's openly gay writer and director, Dean DeBlois, confirms Gobber was talking about being a same-sex-loving Viking.

"When we were recording Craig Ferguson, I had written the line, 'This is why I never got married," and he, as he often does, added it as an ad lib and he said, 'Yup, Gobber is coming out of the closet,'" DeBlois told me earlier today at the Cannes Film Festival while promoting the film at the Carlton Hotel. "I think that's a really fun [and] daring move to put in. I love the idea that Gobber is Berk's resident gay."
DeBlois elaborated on the improvised moment between himself and Ferguson during production:
"And we all started chuckling and said that's right, Gobber's coming out in this movie," DuBois laughed. "I just love that about Craig. He's always got just a little extra something for you. I think it's nice. It's progressive, it's honest, and it feels good, so we wanted to keep it."
Watch a 2010 interview with Craig Ferguson about the first How To Train Your Dragon film, AFTER THE JUMP.