A popular wedding chapel in Idaho says that, should marriage equality arrive in that state, it would rather shut its doors for good than marry gay couples. The Hitching Post, located in Coeur d'Alene, has been in business for close to 100 years. The chapel's owner, Donald Knapp, made the statement just days after a federal judge struck down that state's ban of same-sex marriage. A temporary stay by the Ninth Circuit Court of Appeals, requested by Governor Butch Otter, has put those marriages on hold for now.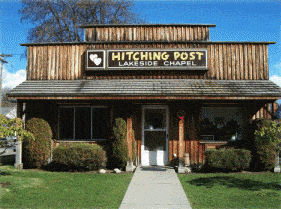 Knapp explained his bigoted reasoning to KXLY-TV. 
"I think the bible is pretty clear that homosexuality is not his way, and therefore I cannot unite people in a way that I believe would conflict with what the bible teaches," Hitching Post owner Donald Knapp said.

"I don't hate those people. I don't think anybody should ever be abusive or mistreat them or anything like that, but I cannot in clear conscience unite such a couple," Knapp said.

The owners of the Hitching Post say they will honor their commitments through the end of the year, but if the ban is lifted they will walk away. If it comes to that they will look into selling the wedding chapel and, if the new owners are willing to host same-sex marriages, they will respect their decision.
The Spokesman-Review points out that, legally, The Hitching Post would not be able to turn away same-sex couples.
Wedding venues that turn away gay couples may violate local laws, such as Coeur d'Alene's prohibition on discrimination based on sexual orientation. The provision adopted by the City Council last year applies to housing, employment and places of public accommodation, including businesses that render public services.
Take a 30-second video tour of The Hitching Post, AFTER THE JUMP.