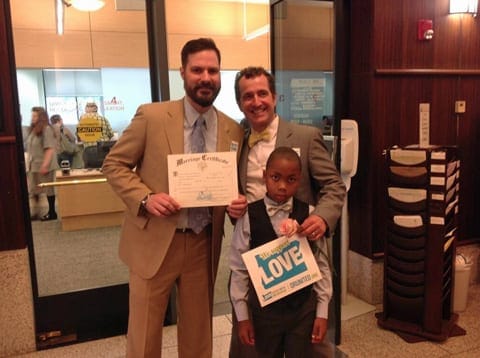 Via Oregon United Twitter: "After defeating #OR's marriage ban in court, plaintiff couple Paul & Ben are now legally married!"
Apologies for Towleroad's lengthy downtime today, which was the result of a DDoS attack on our publishing platform Typepad, which affected all sites it serves. We are hoping that the site is back for good. Thank you so much for your support!
While we were gone, marriage equality came to Oregon!
Jubilant couples who anticipated a favorable decision from the judge began the rush to officially wed at locations around the state. McShane ordered that his ruling take immediate effect.
"Because Oregon's marriage laws discriminate on the basis of sexual orientation without a rational relationship to any legitimate government interest," McShane wrote in his decision, "the laws violate the Equal Protection Clause of the Fourteenth Amendment to the United States Constitution."
Deanna Geiger and Janine Nelson, two of the plaintiffs in the case, were the first couple to marry in Multnomah County following the ruling.
Oregon becomes the seventh state where a federal judge has struck down a gay marriage ban since the U.S. Supreme Court last year invalidated key sections of the federal Defense of Marriage Act.
Read the ruling and watch KOIN's report, AFTER THE JUMP...