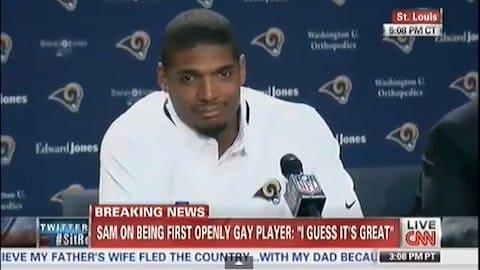 Michael Sam appeared this afternoon at a press conference with the St. Louis Rams where he fielded questions about joining the team and making history as the first openly gay player in the NFL.
One of the questions referred to a kid who came out of the closet to his father after Sam was drafted:
"I'm honored that I helped someone to be comfortable with who we are - gave them a little courage to speak to his father. But right now I'm just looking forward to continue on my dream. And if it inspires other people. Hey, I'm with you. And anyone that's not okay with that, like I said earlier, if someone disowns you, be part of my family. I'll welcome you. Ram up!"
Watch, AFTER THE JUMP...