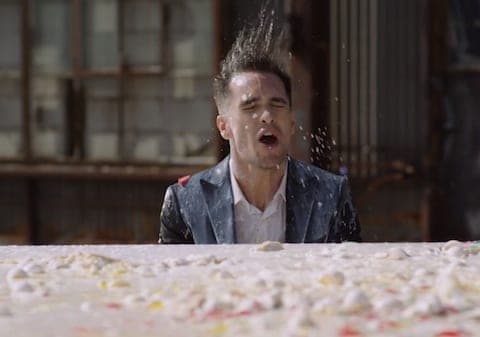 If you haven't eaten today, you're in luck because bisexual singer Brendon Urie of Panic! At The Disco and his piano version of "This Is Gospel" literally has all the ingredients for breakfast, lunch and dinner (with some play time and cucumbers thrown in just to keep everyone healthy).
While he plays, his piano gets showered with glitter, smiley balls, Froot Loops, milk, eggs, glazed chicken wings and spaghetti and meatballs. No idea what raining meatballs have to do with a passionate song about rebelling against conformity, but Urie sounds so great doing it, it's better to just sit back and enjoy the feast, while not thinking too much about how he kept playing with tinsel, cereal and spaghetti mucking up the keys.
We've also got the intense video for the original rock version of "This Is Gospel" as well as a "making of" for the piano version below.
See the videos AFTER THE JUMP…
PIANO VERSION:
ROCK VERSION:
MAKING OF THE PIANO VERSION: