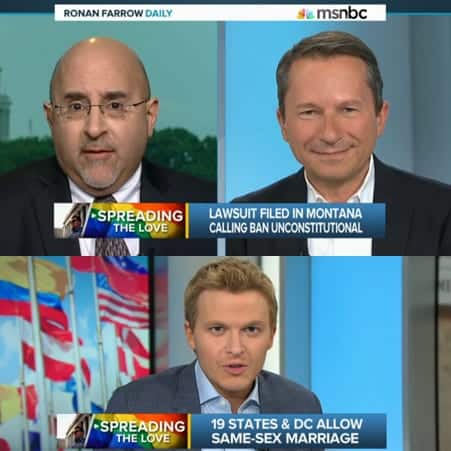 After a discussion about the recent string of marriage equality wins in Oregon, Pennsylvania, and other states and another approaching showdown at the Supreme Court, MSNBC host Ronan Farrow decided to ask Freedom to Marry President Evan Wolfson about the controversial Jo Becker book Forcing the Spring, which painted a picture of the gay marriage battle as one which began with Chad Griffin and the Prop 8. case, to the exclusion of many activists (Wolfson included) who have been working on the effort for years.
"What did you think of that book?" Farrow asks.
Wolfson wisely offers an answer that prompts New Yorker writer and former Clinton aide Richard Socarides to respond, "I'd say that was a very diplomatic answer showing a lot of leadership."
Watch, AFTER THE JUMP...
If you recall, Farrow gave Beck a grilling about her book in an interview last month.