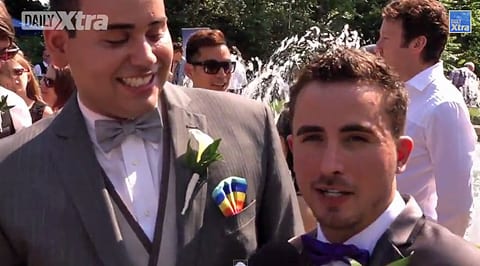 Here come the brides and grooms! 230 of them, to be exact. In a mass wedding at Toronto WorldPride, 115 gay and lesbian couples become committed in a ceremony presided over by twelve officiants, ranging from a Sikh to a priest and back to a secularist. It was a joyous occasion, with couples coming from around the globe to have their love recognized. But the joy was tempered by the realities of a global community in which LGBT identities and partnerships are not wholly accepted and celebrated.
The Toronto Star reports:
[Chief] officiant Rev. John Joseph Mastandrea reminded those gathered of the violence and intolerance still directed at LGBTQ communities around the world.
His voice caught as he described his decision to wear a rainbow-coloured robe to the ceremony. "Today, I wear it in solidarity with the places in the world that cannot get married," he told the hundreds inside the tent and the many hundreds more gathered outside.
The mass wedding also served as a source of pride for the city of Toronto, rocked by scandal in the past months due to the drug use and homophobia of mayor Rob Ford.
Toronto Deputy Mayor Norm Kelly, who opened the service with some welcoming remarks, told the Star that the wedding represents a change in attitude for the city and its residents.
"This marks the transition between accepting differences to embracing them," said Kelly.
Congratulations to the couples and families involved in the wedding!
Check out footage from the ceremony and testimony from various attendees, AFTER THE JUMP...