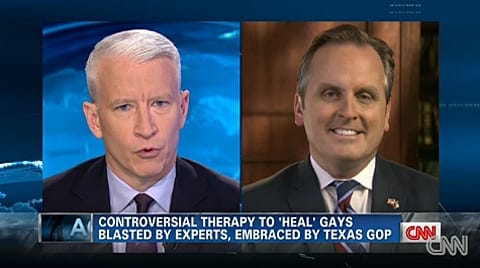 Texas State Rep. Bryan Hughes (R) appeared on AC360 last night to defend the Texas Republican Party's decision to add language to its platform supporting gay "reparative therapy".
The AP reported:
Under the new plank, the Texas Republican Party recognizes "the legitimacy and efficacy of counseling, which offers reparative therapy and treatment for those patients seeking healing and wholeness from their homosexual lifestyle."
Hughes argues that doctors are divided on the issue when that's just not true, and Anderson set him straight:
"It's really just not accurate to say that doctors are evenly divided. I could give you a list: the American Academy of Pediatrics, the American Counseling Association, the American Psychiatric Association, the American Psychological Association, the American School Counselors' Association, the National Association of School Psychologists, National Association of Social Workers. They represent half a million mental health professionals, they all say this is not a mental disorder. It's not something that needs to be cured....Does it concern you, again, that your party is now backing a form of therapy which basically every major medical organization says doesn't work, can be harmful, and which many of the people who have been through it say it doesn't work and is bad for kids?"
Hughes responded:
"No one is saying that God doesn't love people as they are. There's nothiing in the platform about that. No one is trying to take that position. Every one of us makes mistakes, makes decisions we're not proud of. God loves each one of us, and he offers us a way for us to deal with sin and bad choices. But I do strongly disagree with what he said about God not loving people."
Anderson wasn't having it:
"The fact that you view being gay, or you characterize it as a 'mistake,' or something that should be changed really kind of maybe says more about your position than what your words actually say."
Watch, AFTER THE JUMP...