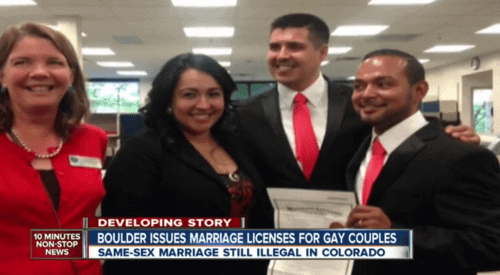 Following the 10th Circuit Court of Appeals ruling on Wednesday, which upheld the unconstitutionality of Utah's same-sex marriage ban, the county clerk of Boulder, CO, Hillary Hall, began issuing marriage licenses to same-sex couples there. As of now, 34 couples have been recipients of the licenses, including Colorado state Senator Jessie Ulibarri (D-Commerce City). The state attorney general, John Suthers, has stated that their marriages are invalid as Colorado still maintains its same-sex marriage ban.
NBC 9 News reports:
While [the AG] contemplates court action, he also wants to speed the gay marriage issue to the Supreme Court:
"Until the Supreme Court decides, we do not have same-sex marriage in Colorado. We're looking at a variety of options, and that's all I'm going to say about it," Suthers said.
County clerk Hillary Hall said she'll issue licenses unless a court tells her otherwise.
Boulder County, CO reportedly had a leg up on the same-sex marriage issue, granting licenses to four couples in 1975 before the AG put a stop to it.
Watch ABC 7's news coverage about the marriage licenses, AFTER THE JUMP...