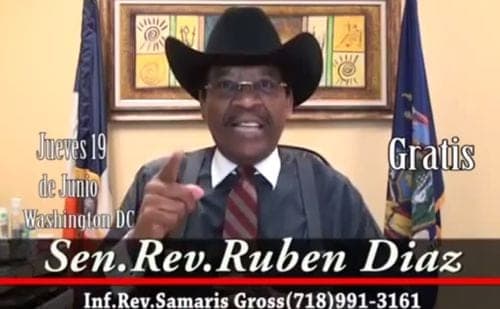 The National Organization for Marriage has organized the "2014 March for Marriage," to take place on June 19th, and they toot that New York Senator Ruben Diaz, Sr., a speaker at the march and a longtime anti-gay activist, is set to bring thousands of African-American and Latino constituents to Washington, DC to take part. Too bad he Diaz not mention the organization or the march in the video advertisement he's released.
Blabbeando reports:
From one of Brian Brown's increasingly desperate newsblasts:
I just recently got off the phone with my good friend, New York State Senator, Rev. Ruben Diaz, who will be speaking at the March again this year. He told me that he plans to bring down over 100 buses to the March from the Bronx this year!

He is calling it the "Second Annual Bus Vigil to Washington." He plans to depart New York at 4:00 am in a spiritual convoy of activists coming to the nation's capital to defend marriage! That's over 5,000 people — overwhelmingly Latino and African-American constituents — that a single political and spiritual leader wants to bring to Washington DC this summer!
The reality of the "Second Vigil on Wheels to Washington"? Diaz, Sr. claims:
We are offering any pastor or organization that wishes to accompany us to Washington a bus completely free of charge. Each bus holds 55 passengers and we will send the bus to any place you tell us to do so... The bus will pick you up there, will bring you to Washington and will bring you back to the same spot. And you won't have to pay for a single thing... Join us! Take advantage of the opportunity. Ask for your bus! Fill the bus! And let's go to Washington!  Let's go on a trip! Visit the monuments in Washington and testify that Jesus heals and saves and is the King we await.
This is not the first time Diaz has rallied people to anti-marriage equality demonstrations using deception. At previous rallies I have heard church leaders say that they had no idea they were being taken to such a rally and I have heard other religious leaders that they felt pressured to participate or risk losing the Senator's support.

But this is the first time Diaz has been caught at it so openly. Hilarious.
The success of Diaz, Sr.'s advertising campaign, and the sure-to-be-absurd "March for Marriage" remains to be seen. We will update you accordingly.
For now watch the ad, AFTER THE JUMP...