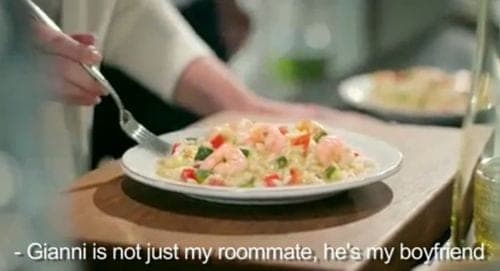 Frozen food company Findus has produced what is being touted as the first gay-inclusive advertisement in Italy. It is a no-frills ad in which a mother and her son enjoy a "home-cooked" meal prepared by the son's boyfriend (in an odd decision, none of their faces are shown); the son comes out, telling his mother about their relationship, and she reacts beautifully.
Time reports:
The ad comes nine months after the chairman of Italian pasta maker Barilla came under fire for saying that he would never use a gay family in his ads. The company eventually announced a "more inclusive" initiative to "establish a more active, global leadership on diversity," including hiring a "chief diversity officer."
Gay activists in Europe praised the video for showcasing the simplicity and the daily life of a gay couple. "It's a positive step forward when different types of families are portrayed in ads, as they resonate with parts of society that are usually marginalized," said Juris Lavrikovs, the communications manager of ILGA, Europe's International Lesbian, Gay, Bisexual, Trans & Intersex Association.
Way to go, Findus!
Check out the wonderful ad, AFTER THE JUMP...