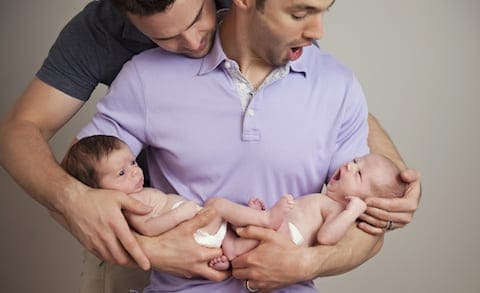 This is a whole new level of regressive behavior, and it's just jaw-dropping in its cruelty.
Texas has made it quite clear that it refuses to recognize legally-wed same-sex couples for the time being, despite judge after judge ruling the ban unconstitutional. However, despite the abuse and discrimination that gay parents are often subject to socially in the Lone Star State, the government hasn't stepped in to discriminate on the basis of biological parenthood...until now.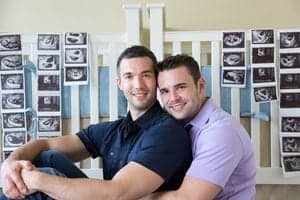 Jason Hanna and Joe Riggs are the biological fathers of twin sons Lucas and Ethan - one father per son - who were carried to term by surrogate mother CharLynn, who bears no biological connection to the boys, reports SiriusXM host and Gay Voices editor Michelangelo Signorile.
However, because Texas doesn't recognize legally-wed gay couples it opens up judges to use their own discretion on cases such as Hanna and Riggs', and in this case a presiding judge determined that neither father is represented on either child's birth certificate as a father...but CharLynn is on both as their mother.
To repeat: the boys' biological fathers are not on their birth certificates as parents, but their non-biological surrogate mother is and is listed as their mother.
All of this despite precedence for their case existing within Texas and even providing DNA results to the court. Adding salt to the wound, the judge also ruled that neither could be an adoptive parent of the other's son. This is especially worrisome, as Hanna points out:
Without [co-adoption], if something happened to either me or Joe we don't have any legal recourse to keep the other's biological child. The state could come in and separate these two brothers…We want to reiterate how important it is for a state to recognize each family, whether it's same-sex or opposite-sex, and really to ensure everyone has equal protection from the state.
SiriusXM radio host Michelangelo Signorile interviewed the couple:
They also did an interview with FOX4 News, AFTER THE JUMP...