Tonight at 9 PM ET, Logo will air a special titled "Trailblazers" to commemorate the one-year anniversary of DOMA's defeat. Included in the special is a brief word from R.E.M.'s Michael Stipe, who eloquently links the past struggles of LGBT Americans with the struggles of today's queer people around the globe:
I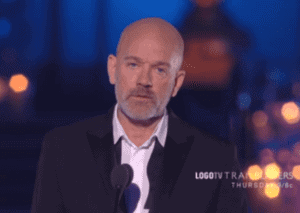 n the early '80s, as a 22-year-old queer man living during the Reagan/Bush administration, I was afraid of getting tested for HIV for fear of quarantine, the threat of internment camps and having my basic civil rights stripped away...I waited five years to get my first anonymous test. I am happy that attitudes have matured and changed, and I feel lucky that i live in a country where acceptance, tolerance and policy toward HIV/AIDS and LGBTQ issues have advanced as far as they have.
Stipe goes on to introduce Ugandan gay rights activist John "Longjones" Abdallah Wambere, who fights against the powers that be in his country, where homosexuality is illegal and anti-gay violence continues to rise. As Wambere puts it, speaking to the audience at the "Trailblazers" event, in Uganda "[this event] would be illegal. We would be all arrested or closed."
Check out Stipe and Wambere's speeches, embedded AFTER THE JUMP...
[h/t MTV News]