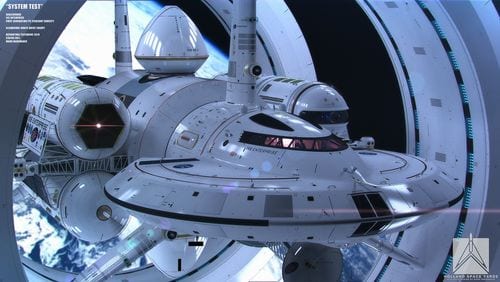 This week, NASA engineer Harold White and digital artist Mark Rademaker unveiled the IXS Enterprise - a years-in-the-making CGI design concept for a potential warp drive space ship of the future. Chris Pine and Zachary Quinto sadly not included. 
The Washington Post reports:
"We wanted to have a decent image of a theory conforming Warp ship to motivate young people to pursue a STEM career," Rademaker said in an e-mail interview. "It does have some Sci-Fi features that might never transfer to a possible final design, unless we really want to."
A warp ship such as the IXS Enterprise could allow travel to interstellar space in a matter of weeks rather than, say, centuries. And the science behind why it might be possible is truly mind-boggling.
An over-simplified explanation is that the concept seeks to exploit a "loophole" in Albert Einstein's theory of relativity that allows travel faster than the speed of light by expanding space-time behind the object and contracting space-time front of it.
When asked the question on all our minds – "When can I get one of these?" White said that proving that the math behind the model is the first and most important step in the process. 
For now, we'll just have to make do with the awesome photos of the design, which you can check out AFTER THE JUMP...
[photos via Flickr]
And check out this video of White explaining his project (starts at 41:54)