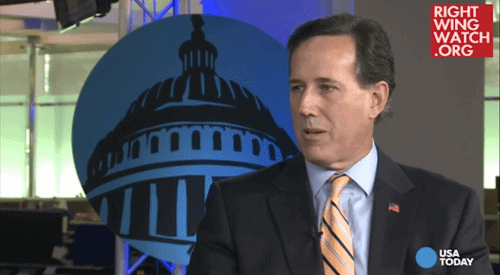 In an interview Friday with USA Today, Rick Santorum was asked about whether he thinks Hillary Clinton will run for president in 2016 - with Santorum saying she isn't "young and bling" enough for Democratic voters:
"I think she would be atypical of what the Democrats would nominate. They generally don't nominate old and tried and true. They tend to nominate young and bling. And only when the young and bling don't work out that they fall back to the tried and true….[Democrats] like new, they like fresh, they like young. That's who the Democratic Party has been nominating since they became the liberal party in America."
In a separate clip, Santorum was asked to weigh in on Rick Perry's recent comparison of homosexuality to alcoholism. Santorum said that doing analogies and comparisons like that "can be very dicey and tricky affairs because people get very upset when you do them," but that he stood by Perry's point.
Wonder if Dan Savage's ears are burning... 
Watch the clips, AFTER THE JUMP...
[via Right Wing Watch]