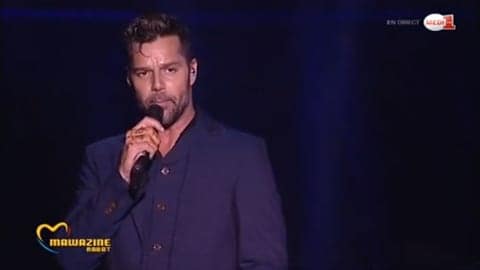 Ricky Martin took advantage of a situation and crafted an inspired, brave moment while performing at the Mawazine World Rhythms Festival in Morocco last week. Altering the lyrics of a popular love song from "she" to "he," Martin took a stand for gay rights in a country where one can be imprisoned for homosexuality.
Think Progress reports:
"It's the way he makes me feel/ It's the only thing that's real," the singer croons, in a video that's posted online. "It's the way he understands / He's my lover, he's my friend / When I look into his eyes it's the way I feel inside / Like the man I want to be / He's all I ever need."
Under article 489 in Morocco's penal code, being gay is a crime punishable by imprisonment. While there is something of a gay community in the country,arrests do happen. Just a month ago, six men there were jailed for being gay.
Way to go, Ricky!
Check out the video, AFTER THE JUMP...