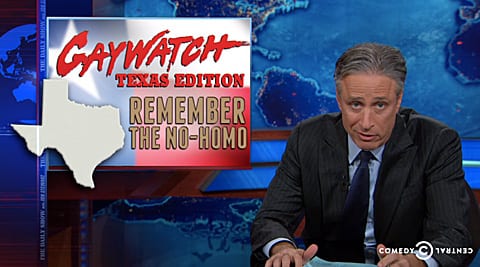 On last night's Daily Show, Jon Stewart noted that one of the suggested "therapies" to stop someone from being gay is "ordering someone to bottle their feces and sniff it" whenever they are attracted to a man.
Stewart suggests that the Texas Republican party use that therapy to cure themselves of their idiocy:
"Being gay is not a choice. But being a texas Republican is. So my advice is the next time you feel the urge to be a Texas Republican - to replace science textbooks with pictures of humans riding dinosaurs or ban same sex marriage, or put on [a stuffed elephant] hat, sh-t in a jar and sniff it! It won't cure you but do it anyway. Hopefully it will remind you of what a**holes you're being."
Watch, AFTER THE JUMP...