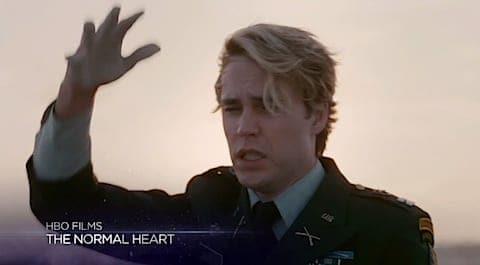 Taylor Kitsch--the former Friday Night Lights heartthrob who burned up the screen to different, more tragic effect in HBO's recent film adaptation of The Normal Heart--appeared on Michelangelo Signorile's SiriusXM Progress to discuss the intensity of the filming process and his character, Bruce Niles.
In the film Niles, a mostly-closeted lawyer, is elected the first president of the Gay Men's Health Crisis, much to Ned's (Mark Ruffalo) chagrin. Kitsch talked at length about his scenes with Ruffalo and the intensity of their arguments.
HuffPost reports:
"I have a lot of intense scenes with Ruffalo in which he's literally trying to make me come out on camera — which is devastating to Bruce. So in between takes we'd be like, 'You know what, we no doubt have the same goal here, but our approach is incredibly different.'...There's takes where both of us are crying just standing there. And then there's takes where, just, I couldn't be angrier. It was an incredible process to go through with Ruffalo."
Though Kitsch may have relished some scenes, he also commented on the emotionally draining difficulty of others, such as a memorable moment when he is forced to put his dead lover into trash bags and take him out back to a hospital alley.
"I think it kind of encompasses that insecurity in what people do or how they react to fear of the unknown," he said, referring to a time of heightened media hysteria around AIDS. "And that happened, which is even scarier. Paying someone to put them in a garbage bag. It's so inhumane on so many levels. It was just — that was the one scene I just wasn't a big fan of doing a lot of takes of. And [director Ryan Murphy] knew that as well. And yeah, we didn't do a lot of takes. We didn't need many. It was something you kind of try to forget that is just scarred in your memory."
Of course, many who are praising the film, including our own Nathaniel Rogers, appreciate it precisely because of unforgettable scenes like these. It has brought the visceral realities of the HIV/AIDS epidemic into the modern moment. 
You can still check out The Normal Heart on HBO GO. 
And listen to Kitsch discuss the film, AFTER THE JUMP...