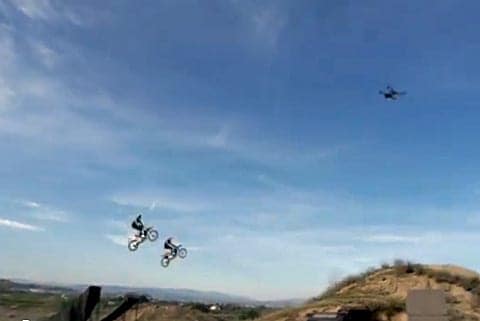 For $1,195 you can own the world's first auto-follow drone — a 3.08 pound, foldable, portable, weather-resistant aerial quad-copter capable of flying 40 miles per hour and recording 10 to 20 minutes of footage on a GoPro camera. It's called AirDog, and its developers will send one to anyone who gives the aforementioned amount to its $200,000 Kickstarter.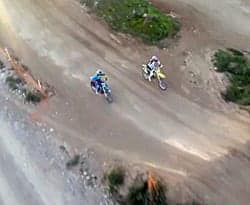 The AirDog comes with a two-axis gyro-stabilized camera to help create steady shots. It has six follow modes programmable via smartphone and easily replaceable, impact-resistant parts. Basically, you use a wrist controller called an AirLeash to launch the AirDog and whenever the drone runs low on battery, it lands back at its launch point.
Although AirDog was developed with the aim of recording extreme sports, the technology will undoubtedly catch on in indie filmmaking and broadcast TV. Its developers say:
"For too long, the drone has been synonymous with warfare. We've designed a drone with a very different purpose. We think it's time for a new generation of drones that inspire creativity, enjoyment of nature, healthy lifestyles, and self expression."
One should note that the modern prevalence of drones have forced courts and state legislatures to create their own laws regarding drone use until the Federal Aviation Administration completes its guidelines for use of "unmanned aircraft." Thus far, the FAA guidelines require drones to have sense-and-avoid technology to prevent potentially deadly mid-air collisions with manned aircraft. They're still sorting out the larger question of privacy concerns.
Also, you may be interested to know that the GoPro Camera has been used on many adventures we've shared here on Towleroad including Felix Baumgartner's tumble to Earth, this man's close encounter with a Great White Shark and a first-person ride on Sochi's Olympic luge track.
Watch video of the AirDog AFTER THE JUMP...