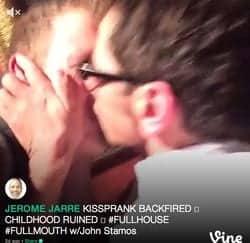 We've seen John Stamos cuddle with Bob Saget, and we've seen his kisses auctioned off for a good cause, but now it seems like the former "Full House" hunk just genuinely loves kissing men (or at least pulling off a good prank). Vine superstar Jerome Jarre has become most famous for unexpectedly smooching other people and seeing how they react. A recent attempt, however, left the shocked Jarre with a mouthful of Stamos and a lot of unwarranted anti-gay backlash.
Gay.net reports:
Jarre posted the video to his 6.1 million followers on Vine with the tongue in cheek (pun intended) caption: "KISSPRANK BACKFIRED - CHILDHOOD RUINED - #FULLHOUSE #FULLMOUTH w/ John Stamos."
He expected the same light, fun comments he usually gets on videos. Instead, his comment feed was littered with homophobic statements. "Gay. Unfollowed," reads one. "God made Adam and Even not Adam and Steve," reads another.
"I am receiving death threats now, but I would not delete this Vine for anything in the world," Jarre told Mashable in an interview.
Rather than give into the gay panic, Jarre opted to create a new video, revealing he has a "beautiful girlfriend" and then smooching fellow Vine user Nicholas Megalis. The best part? Megalis is done up in some particularly unconvincing drag.
"I'm sick of seeing kids being bullied for living their lives. Ignorance is so dangerous," Megalis told Mashable. "And as someone who makes things, it is my job to make something I actually believe in. And I believe in this. Gay, straight, alien. Doesn't mean shit. Love is love is love."
Check out both of the Vines, AFTER THE JUMP...