Senate Bill No. 2681, a law allowing businesses to refuse LGBT identified people service went into effect on Tuesday.

Better known as the Mississippi Religious Freedom Restoration Act, the provision enables businesses to cite religious beliefs as a legitimate reason to turn customers away.
Sponsored by conservative Baptist pastor and state senator Philip Gandy, SB2681 was met with unabashed support from Mississippi's governor, Phil Bryant (pictured, below). "I am proud to sign the Mississippi Religious Freedom Restoration Act, which will protect the individual religious freedom of Mississippians of all faiths from government interference," Gov. Phil Bryant said in a statement.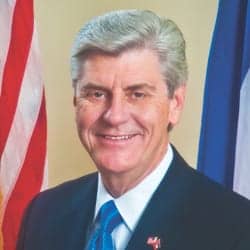 Opposition to the bill, however, is widespread. If You're Buying, We're Selling is a coalition of local Mississippi businesses dedicated to stand against SB2681. The group distributes stickers to organizations wishing to display their opposition to the bill in their storefronts, letting consumers know that they're more than glad to serve any and all patrons.
John Curence, a Mississippi-based chef, has become one of the most prominent and vocal voices opposing the bill. "More than anything else, the law sends a terrible message about the state if consciousness in the state of Mississippi," Currence told the New York Times. "We are not going to sit idly by and watch Jim Crow get revived in our state."
Currence recently found himself face to face with Gov. Bryant through the 35th annual Central Park summer picnic thrown by the New York Mississippi Society. Booked months before Bryant threw his support behind SB2681, Currence turned the awkward conflict of interests into an opportunity. The following evening Currence and fellow chef Kelly English organized The Big Gay Mississippi Welcome Table, a protest dinner.
If, as supporters of the bill claimed, the law was simply trying to protect freedom of speech, the the governor need only attend Currence's protest dinner and state as much. Rather than accepting the invitation, Currence explained in an interview with Buzzfeed, the governor's office responded with hostility: "I got a phone call, a dressing down by the governor's office — they wanted to know why I would embarrass the governor like this. And then it f**king dawned on me: You a**holes don't f**king talk to me like a sixth-grader in the principal's office, I'm a 50-year-old man. More to the point, I'm on the right f**king side of this thing. All you a**holes have to do is come to dinner."
Read the full text of SB2681 AFTER THE JUMP...
Mississippi Religious Freedom Restoration Act [SB 2681] SB 2681 Mississippi by Leonardo Blair