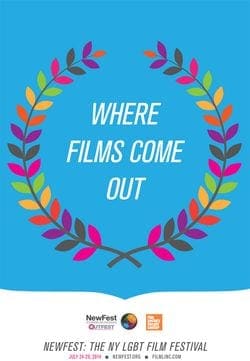 In late June, Outfest, in partnership with the Film Society of Lincoln Center, announced the lineup for New York City's largest and most esteemed LGBT film festival, NewFest! Running from July 24th through July 29th, the nearly week-long event will consist of sixteen narrative and five documentary features.
Write the organizers:
Lesli Klainberg, Film Society of Lincoln Center's Executive Director said, "This marks the fourth year of having NewFest at the Film Society and we couldn't be happier to continue our collaboration with Outfest. LGBT films and filmmakers are a vital part of cinema worldwide, and we are thrilled to offer this showcase on our screens each year."
"In the year following spectacular LGBT civil rights advances across the country, the dynamic and fresh slate of 2014 NewFest films decisively demonstrates that artists and storytellers lead the charge in creating social change," said Kristin Pepe (KP), Outfest's Director of Programming.
NewFest's goal is to support "diverse film communities and voices from around the world," and the lineup for this year's festival has international entries from Brazil, Canada, Switzerland, The Netherlands, Israel, and several other countries, as well as films focused on the experiences of lesbian, gay, and transgender characters.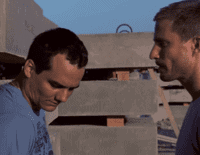 The opening night film, Futuro Beach, is a joint Brazilian and German production:
"When Brazilian lifeguard Donato fails to save a swimmer from drowning, he seeks out the victim's friend Konrad, a handsome German biker. The two men begin a passionate affair, and Donato soon decides to follow Konrad to Berlin. Years later, their seemingly peaceful life is threatened by a visitor from Donato's past. Director Karim Aïnouz...delivers a visually stunning, emotionally resonant tale about three men struggling across oceans of love, loss, and heartache."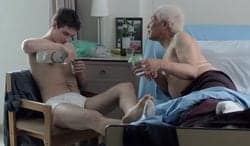 And the closing night slot is filled by legendary filmmaker Bruce LaBruce's Gerontophilia:
"Lake refuses to feel shame about his unquenchable appetite for older men. The handsome teen defiantly signs up as an orderly at a local nursing home and quickly falls for Mr. Peabody, a charming, flirtatious soul with one last wish. Forget everything you know about filmmaker Bruce LaBruce: in what is easily his most romantic work to date, he dares us to look beyond fetish to embrace the beauty of all stages of life."
NewFest tickets will go on sale on July 10th. For more information, visit the NewFest website.
And check out the trailers for Futuro Beach (not in English) and Gerontophilia, AFTER THE JUMP...