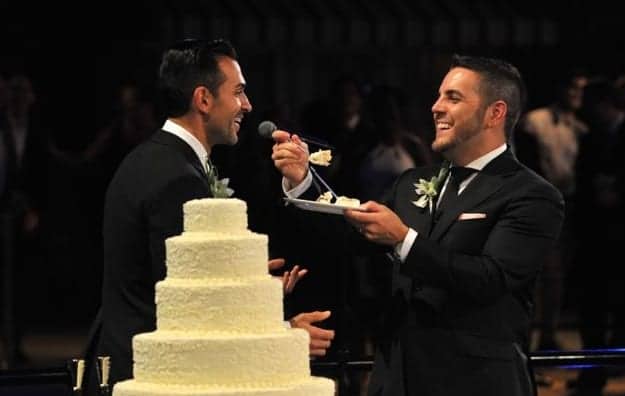 Paul Katami and Jeff Zarrillo married at Los Angeles City Hall just hours after the 9th Circuit Court of Appeals lifted the stay on its ruling on Prop 8 last year. Now, exactly one year later, the couple have renewed their vows - this time in an elaborate ceremony in front of friends and family.
The big event was held at the Beverly Hilton Hotel on June 28 and was, appropriately, officiated by Prop 8 attorneys Ted Olson and David Boies.
Frontiers reports on the day:
The ceremony itself was simple, emotional and shared—as they were escorted to the center of the "stage" by their mothers and nieces and nephews put in appearances to present the rings. As if to illustrate the point he was making, Olson read off cards he was holding to note that marriage is not about perfection and not only about marrying the right partner but being the right partner.
Guests included Kris Perry and Sandy Stier, Lance Bass, Darren Criss, Rob Reiner and retired District Court Judge Vaughn Walker.
Watch an ABC7 News segment on the ceremony, AFTER THE JUMP...