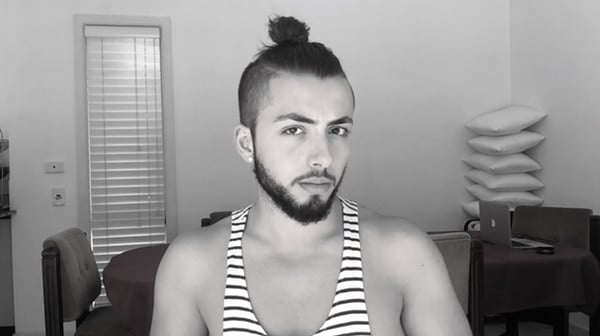 Elias, a Lebanese man living in Australia, says he was kicked out of his home for being gay after his family staged an intervention. He talks about the experience in a new video.
Writes Elias:
*This video was filmed a few days after being kicked out of home.* It has been sitting in my unpublished videos for about three weeks now because I was afraid of the reaction/response it would get. I've struggled many times in the past with asking for help from others due to always relying myself and being an independent person. I realise now, however, weeks after the incident, I cannot do this on my own, I am struggling, and there is nothing wrong with asking for help.
My current position: I am not allowed to see my youngest brother (10 years old)– if and when I do, it's because I've snuck him out with the help of my dad late at night, I keep in contact with my sister (16 years old) who keeps me updated on what's going on, my direct family and extended family have cut ties with me, my small group of friends are unable to support me (completely understandable– this comes as a shock to most of them and none of us were prepared), my dad is moving away overseas due to his mother in Lebanon being sick and in her last few months, so I can no longer say with him. I am currently renting, but I am struggling to pay for all my expenses. My only job is just getting me by. I am in the process of getting a second job.
To those followers of mine who keep up with me religiously– you guys know who you are– this video was made for you. It was also made to bring awareness to what it is like living as a closet Middle-Eastern gay male in a very staunch Catholic/religious family household, and what my current circumstances are. My thoughts and prayers go out to all homeless LGBTQ youth and adults all around the world. It is really a situation unimaginable that nobody can ever be prepared for. But there is only light at the end of every tunnel.
Watch:
https://www.youtube.com/watch?v=O5ds4GZngGg