Published by
DPA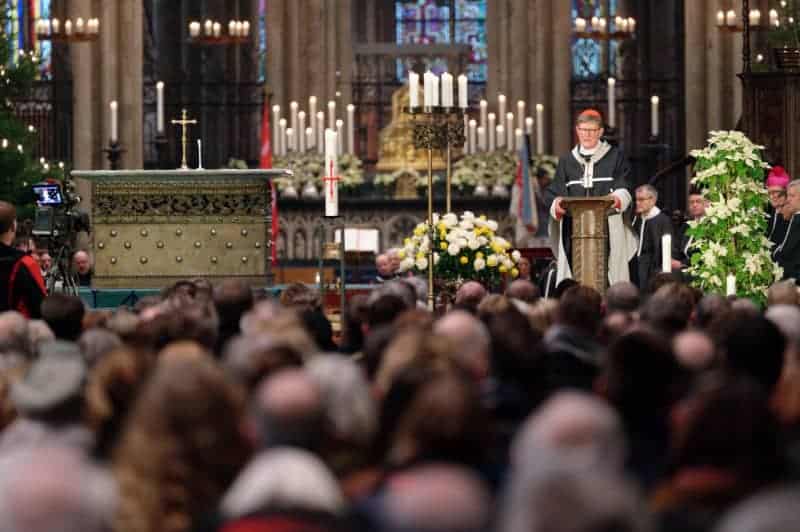 Cardinal Rainer Maria Woelki speaks during a memorial service for the late Pope Benedict XVI in Cologne Cathedral. Henning Kaiser/dpa
The Archbishop of Cologne, Cardinal Rainer Maria Woelki, said late pope emeritus Benedict XVI should not be judged by the usual standards, at a funeral mass held for him on Saturday.
Many were judging Benedict – whose birth name was Joseph Ratzinger – by his theological stance and above all by his church politics, Woelki said.
Benedict's teachings had been guided entirely by the belief that Jesus had indeed been the Son of God, argued the head of the western German archdiocese.
"For him, remembering and keeping alive this central tenet was the only true reform that our Church needs today," Woelki said. "All other reforms must come from this decisive reform."
Woelki is an opponent of the current reform course in the Catholic Church in Germany. The reforms, which have been criticized by the Vatican, would include blessings for same-sex marriages, married priests and women deacons.
Benedict died in the Vatican a week ago at the age of 95.
A conservative theologian, Benedict had many connections with the Archdiocese of Cologne, having taught at the University of Bonn near Cologne for several years as well as having visited the World Youth Day in Cologne several days after his appointment as pope in 2005.
The church politics involving Benedict that Woelki referred to in his speech are however, ongoing, even beyond the former pope's death.
The so-called "Sauerteig" initiative is working to come to terms with an abuse scandal in Upper Bavaria which happened while Ratzinger was archbishop of Munich. The priest accused of the abuse had been transferred to Ratzinger's diocese under his supervision at a time when the abuse was ongoing.
The initiative published an open letter on Saturday calling on Pope Francis to intervene in the legal proceedings involving the late pope emeritus before the relevant regional court, as the "legal successor of Benedict XVI."
Pope Francis' cooperation, representatives of Sauerteig wrote, would be a key step in "getting to the root of the devastating taboo and trivialization of the extent of abuse and uncovering paedo-criminal structures within the clergy."
The lawsuit, which had been filed by a victim of the priest's abuse and directed against Benedict, was declared by the regional court to be ongoing even after his death, as the case can technically be passed on to Benedict's legal representative.
At stake is whether representatives of the Archdiocese of Munich-Freising, namely the former pope Benedict, covered up abuse and thus enabled further abuse.