Published by
Reuters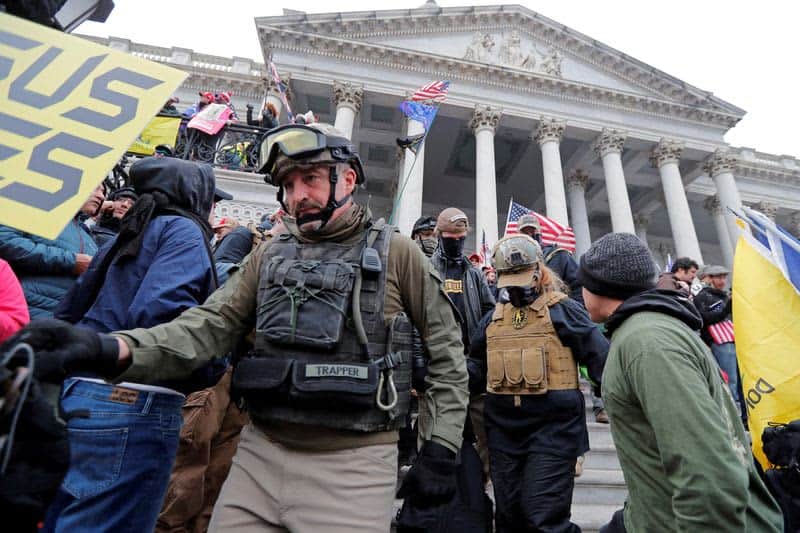 (Note language that may offend some readers in paragraph 17)
By Sarah N. Lynch
WASHINGTON (Reuters) – A prosecutor urged a jury on Wednesday to convict four members of the far-right Oath Keepers of seditious conspiracy, saying they plotted to stop the U.S. Congress from certifying the 2020 election because they could not accept President Joe Biden's victory.
"The defendants could not let the election stand. They could not let Biden come to power," federal prosecutor Louis Manzo told the jury.
Thousands of supporters of Republican then-President Donald Trump stormed the Capitol on Jan. 6, 2021, in an attempt to overturn Democrat Biden's victory.
In closing arguments, Manzo pointed across the room to defendants Roberto Minuta, Joseph Hackett, David Moerschel and Edward Vallejo, and accused the men of upending America's two-century record of "the routine peaceful transfer of power."
"Our democracy was under attack, but for these defendants, it was everything they trained for," he said.
Defense attorneys for the four deny that their clients hatched a plot to block the certification of the 2020 election, and have accused prosecutors of cherry-picking evidence to present what they called a misleading narrative.
The closing arguments on Wednesday marked the end of the second major seditious conspiracy trial stemming from the attack. Four people died during the chaos and five police officers died afterwards, while about 140 officers were injured and the Capitol sustained millions of dollars in damage.
The Oath Keeper members are accused of conspiring to block Congress from certifying Biden's election victory.
Seditious conspiracy is a rarely prosecuted Civil War-era statute that carries up to 20 years in prison if convicted.
In November, a jury convicted Oath Keepers founder Stewart Rhodes and a Florida chapter leader of seditious conspiracy, but acquitted three other Oath Keeper defendants of the charge.
All five Oath Keepers in that case, however, were convicted of obstructing Congress from certifying the electoral votes – a charge that can also carry up to 20 years.
A third seditious conspiracy trial against five members of the far-right Proud Boys group, including its former chairman Henry "Enrique" Tarrio – is underway in the same courthouse.
In both Oath Keepers' trials, Rhodes' fiery rhetoric and inflammatory statements about "civil war" and "bloody war" took center stage, with prosecutors saying the other members were inspired to carry out his vision.
Through his leadership, prosecutors said, some members of the group breached the Capitol clad in tactical gear, while others stood back with a stockpile of firearms stashed at a hotel in nearby Arlington, Virginia.
Hackett, Minuta and Moerschel were among the members who physically entered the Capitol, while Vallejo is accused of helping to organize the Virginia weapons stockpile.
None of the four held leadership roles in the group, though Minuta gained some attention for his role in providing security to Trump ally and Republican political operative Roger Stone.
Prosecutors highlighted numerous inflammatory videos Minuta streamed of himself on social media on the day of the attack, including one in which he said: "You know what? Millions will die. So what? Get your fucking soul ready. Get right with God."
Minuta's attorney William Shipley, in his closing arguments on Wednesday, acknowledged his client was acting "crazy" in the videos, but said they had nothing to do with Rhodes, and he accused the government of taking the evidence out of context.
"This case is about a narrative in a sea of evidence," he said. "But the evidence isn't there."
(Reporting by Sarah N. Lynch; Editing by Scott Malone and Alistair Bell)