Published by
DPA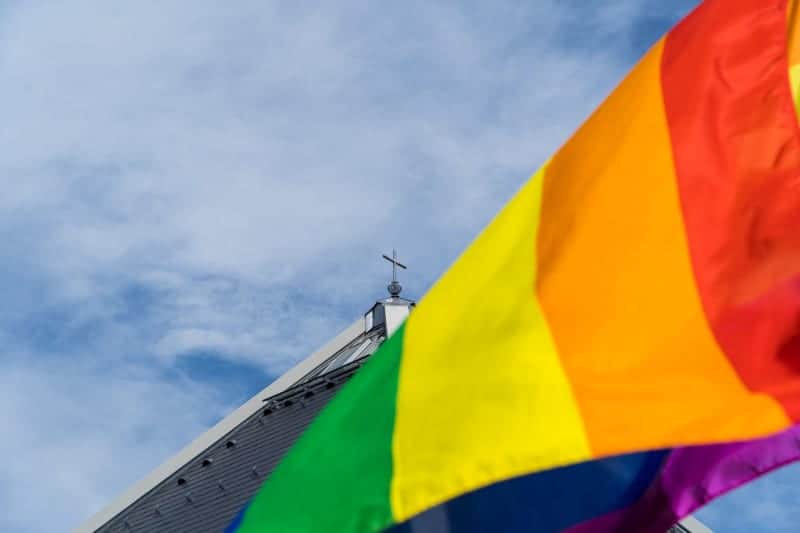 A rainbow flag flies outside the Autobahnkirche St. Christophorus on the sidelines of the blessing of same-sex couples. There has been a sharp reaction from the Vatican to a decision by the Catholic Church in Germany to approve blessing ceremonies for homosexual couples. Benedikt Spether/dpa
There has been a sharp reaction from the Vatican to a decision by the Catholic Church in Germany to approve blessing ceremonies for homosexual couples.
Vatican Secretary of State Cardinal Pietro Parolin told journalists in Rome on Monday evening that a local church cannot make decisions that affect the universal church.
Parolin, who is one of the most influential cardinals internationally, said that the Holy See has already expressed itself "clearly and unequivocally" on the subject in the past, and any change required a discussion with the Vatican and the other churches of the world.
However Parolin played down suggestions that the move by German Catholics could be seen as a rebellion. "There have always been tensions and different positions in the Church," he said.
The Vatican will now continue the dialogue with the German bishops to clarify how those decisions can be integrated into the so-called Synodal Way of the universal Church, he said.
Germany's synodal assembly on the reform of the Catholic Church decided last week to allow official blessing ceremonies for homosexual couples.
A working group is now to be formed to prepare a handout for the blessing ceremonies "in a timely manner." The handout is to specify how the blessing ceremonies are to take place. As soon as this handout is ready, each bishop can implement the blessing celebrations in his diocese.
An evaluation of the experience will be carried out in 2026.