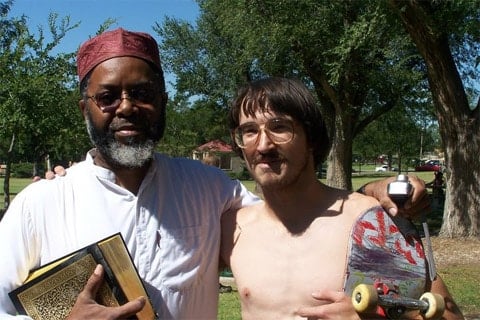 A 23-year-old skateboarder blocked a public Quran-burning in an Amarillo, Texas park on Saturday after swooping in and absconding with the holy book, delivering it to a local Muslim leader, Amarillo.com reports:
"Jacob Isom, 23, grabbed David Grisham's Quran when he became distracted while arguing with several residents at Sam Houston Park about the merits of burning the Islamic holy book. 'You're just trying to start Holy Wars,' Isom said of Grisham after he gave the book to a religious leader from the Islamic Center of Amarillo."
Said Isom in an interview with News 10: "Snuck up behind him and took his Qur'an. He said something about burning the Qur'an. And I was like, 'Dude, you have no Qur'an,' and ran off." 
Watch News 10's interview, AFTER THE JUMP...
(image via reddit)