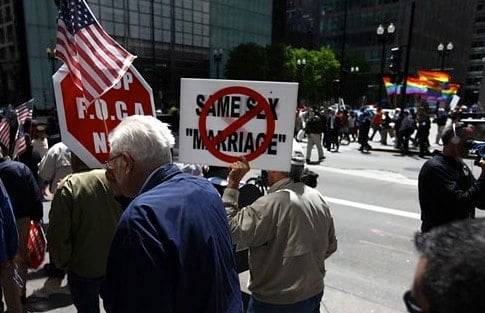 Just ahead the Illinois civil unions law that goes into effect on Wednesday, anti-gay protesters in Chicago yesterday marched in support of their belief that the issue should go before voters in that state. "Porno Pete" LaBarbera, whose hateful group Americans for Truth is headquartered in the state, was in attendance and spoke to the Chicago Tribune:
"There's a battle between gay rights and religious freedom," said Peter LaBarbera, president of the group Americans for Truth, as he coached people on how to correctly complete the signature sheets on which opponents hope to collect the required 300,000 signatures. "We want to give Illinois votes the same opportunity other states have had."
Gay rights activists showed up for a counter rally that emerged through a Facebook campaign.
Governor Pat Quinn will be attendance on Wednesday when 30 same-sex couples take part in a civil unions ceremony at Millennium Park.
Watch a news report on the protests from the local ABC affiliate in Chicago, AFTER THE JUMP.
"