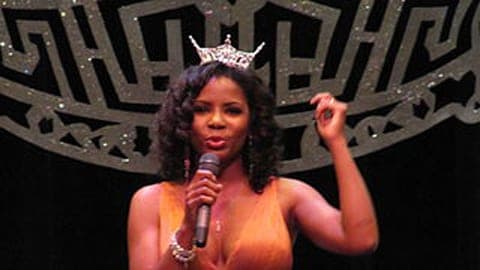 This March, former Miss Kentucky Djuan Trent came out of the closet after a federal judge ruled that Kentucky must recognize same-sex marriages from other states.
In a recent interview with Michelangelo Signorile, she explained why she came out as "queer" as opposed to "gay":
"I think it's one of those words that doesn't put you in such a box… If you choose other labels, sometimes you feel like you're in a bit of a box.
"My favorite example, that I always love to use, is that girls I went to college with, who ran all around campus waving rainbow flags -- they were like, 'Lesbian for life! Yeah, forever!' And now, how ever many years later, I'm seeing them on Facebook and they're like, 'He proposed, and I said, "yes!"' And I'm looking, like, 'What?!'
"So I think that 'queer' is one of those things that, it is more inclusive. It kind of opens to a whole other conversation about the fluidity of sexuality and being able to embrace that. Because I mean that's the basic reason you see women who are hardcore lesbians one year and the next year they're married to their husbands with three kids."
The Huffington Post continues her explanation:
"When I originally wrote the blog, I wrote, 'I am gay... And then, I went back and I looked at it and I decided I wanted to change it. I wanted to put 'queer' there, because it's a word that I like. I feel that a lot of people outside the LGBTQ community don't know it's a thing, that it's okay."
Trent has since become an honorary co-chair of Southerners For the Freedom to Marry.  
Hear her explanation AFTER THE JUMP...