The songs of The Smiths are the meat of a new musical in London called Some Girls are Bigger than Others and most critics are agreeing that the meat is definitely being murdered in this case. The Guardian said two weeks ago that the production was "so hectic it would bring on a migraine in the susceptible."
Sung by four women and two men, the musical transforms the songs into "an Alice in Wonderland tale of family dysfunction.The NYT attempts to distill the show as well, calling it "an allusive, surreal, ever-mutating fantasia on love and sex, family and control, violence and death."
Sounds fairly hectic, doesn't it?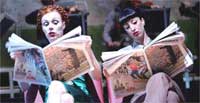 Perrin Manzer Allen, the musical director said, "Music theater far too often underestimates that as people we have two or three emotional responses at the same time that are conflicting. It's rather rare that we have one pure emotional response. So something can be campy and tragic at the same time, something can make you laugh and also really frighten you."
Like the life of a heartsick rebellious sexually-confused adolescent, which was what I always thought Morrissey's lyrics were about. What I'd expect The Smiths' songs to be twisted into would be a sort of tormented version of Sixteen Candles for the Goth crowd.
Mining the Drama in a Rock Catalog [ny times]