President Bush will discuss troop withdrawal to the Veterans of Foreign Wars (VFW) group in a speech on Wednesday, according to excerpts released yesterday, warning that what happened in Vietnam could also happen in Iraq should the U.S. decide to leave hastily.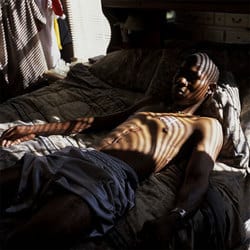 "Many argued that if we pulled out, there would be no consequences for the Vietnamese people," Bush will tell the Vets. "The world would learn just how costly these misimpressions would be. In Cambodia, the Khmer Rouge began a murderous rule in which hundreds of thousands of Cambodians died by starvation, torture, or execution. In Vietnam, former American allies, government workers, intellectuals, and businessmen were sent off to prison camps, where tens of thousands perished. Hundreds of thousands more fled the country on rickety boats, many of them going to their graves in the South China Sea."
More: "As they take the initiative from the enemy, they have a question: Will their elected leaders in Washington pull the rug out from under them just as they are gaining momentum and changing the dynamic on the ground in Iraq? My answer is clear: We will support our troops, we will support our commanders, and we will give them everything they need to succeed. Three decades later, there is a legitimate debate about how we got into the Vietnam War and how we left. Whatever your position in that debate, one unmistakable legacy of Vietnam is that the price of Americas withdrawal was paid by millions of innocent citizens whose agonies would add to our vocabulary new terms like 'boat people,' 're-education camps,' and 'killing fields'."
—
The image above is from "Purple Hearts", an exhibit of Nina Berman's photographs exploring "the physical and psychological repercussions of the individuals who have served in Iraq and returned home — portraits taken in soldiers' homes, in military hospitals, and on Army bases across the U.S."
James Wagner offers a write-up of the show, which is at the Jen Bekman gallery in New York until August 30.
Bush lashes out at Iraq war critics [associated foreign press]
"Purple Hearts" at Jen Bekman [james wagner]