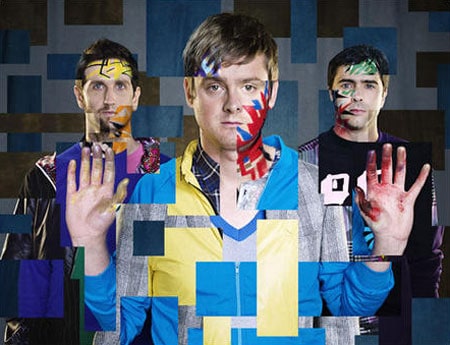 Robbie Daw presents a weekly pop music update here on Towleroad! Robbie runs his own site called Chart Rigger.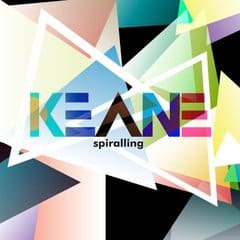 Perhaps taking a cue from Coldplay, Brit trio Keane are offering "Spiralling," the lead single of their upcoming third album Perfect Symmetry, as a free download for one week only on their official website. To these ears, the glammy, uptempo track is reminiscent of Roxy Music's "Let's Stick Together" and David Bowie's "Young Americans."
Stuart Price, Jon Brion and Andy Green are doing production chores on Perfect Symmetry, along with Keane themselves. The album is due out mid-October.
In the meantime, Price—one of the main hands in Madonna's 2005 Confessions On A Dancefloor—is also twiddling knobs on The Killers' forthcoming third studio set, rumored to be titled Day And Age.
Meanwhile, last week The Killers played "Spaceman" and "Neon Tiger" (below), two new tracks likely to be on the new record at a fanclub-only show at New York City's Highline Ballroom.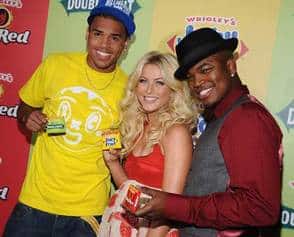 I'll admit that Chris Brown's (pictured right) overly-poppy "Forever" is my not-so-guilty pleasure this summer, and I was hoping for more of the same from him down the line. So it was with a bit of dismay that I first read about the Wrigley's gum jingle deal and saw this. Well, only a slight bit.

LCD Soundsystem frontman James Murphy (who signed queer act Hercules And Love Affair to his DFA Records label) is joining drummer Pat Mahoney on the road for the Special Disco Version DJ tour. It kicks off tonight at Mighty in San Francisco: "People hear that word disco, and they see bellbottoms and That '70s Show. No, no, no. This is real liberation music for people who know where to go. This is the real deal. With SDV, I can keep experimenting with remixes that we're working on, I can keep playing new stuff, and I can keep finding old records."

The release date of Morrissey's new album Years Of Refusal has been pushed back from September to early next year, following producer Jerry Finn's severe brain hemorrhage last month. Finn was the mixer for Green Day's Dookie and Insomniac, and producer of Blink 182's Enema Of The State and Morrissey's You Are The Quarry.

Does The Annie Lennox Collection get it right?

Acts such as R.E.M., Pearl Jam, My Morning Jacket, OK Go and Trent Reznor are petitioning to have Barack Obama and John McCain debate in New Orleans about Louisiana coastal wetlands restoration and hurricane recovery. Google and YouTube are organizing the Presidential forum, of which neither candidate has committed to.

There's at least one girl who won't kiss Katy Perry. Actually, make that two.
Fasciination, the self-released fifth album from The Faint. The band had previously released their albums on fellow Nebraskan Conor Oberst's Saddle Creek label.
Conor Oberst's self-titled solo album.
Brazilian Girls' New York City.
Santogold's "L.E.S. Artistes" remix EP.
New singles from Cassie ("Official Girl"), the Jonas Brothers ("A Little Bit Longer"), Hayden Panettiere ("Wake Up Call"), The Game & Lil Wayne ("My Life"), Bob Dylan ("Dreamin' Of You") and Raphael Saadiq ("Love That Girl").