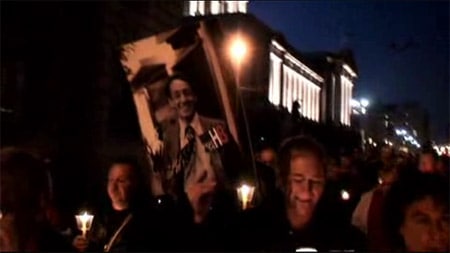 Hundreds of people crowded the streets of San Francisco on Friday night after a memorial and concert at City Hall in honor of Harvey Milk and George Moscone, assassinated 30 years ago Thursday. The celebration of both lives featured music from the San Francisco Gay Men's Chorus, the San Francisco Lesbian/Gay Freedom Band, the Lesbian/Gay Chorus of San Francisco and the GLAM Youth Choir, and speeches from Supervisor Tom Ammiano, George Moscone's son Jon, Willie Brown, Harvey Milk's nephew, Stuart, Carol Ruth Silver, and Harry Britt.
The Mercury News reports:
"Jonathan Moscone, the former mayor's son, said Friday that his father was 'an agent of eternal change,' for bringing the city's diverse population into city government. Stuart Milk, a nephew from Florida who spoke at the vigil, quoted a letter written to his family by his uncle the year he was killed. 'My hope is to leave a world '… a place that embraces difference,' Milk wrote in 1978, 'not with hate, but with love.' Stuart Milk acknowledged the Hollywood producer Dan Jinks, who stood in the crowd, for his new role in keeping his uncle's "message of hope and example of courage" alive in the recently released film starring Sean Penn as Milk. Milk and Moscone, Brown said, 'are two individuals who shaped the nature of politics and public policy in this city.' Their legacy, he said, are today's gays and lesbians in politics, such as Supervisor Tom Ammiano."
Following the City Hall ceremony was a march to the Castro, where speeches from assemblyman Mark Leno, Treasurer Jose Cisneros, and Supervisor Bevan Dufty took place in front of Milk's old camera shop at 575 Castro.
No doubt many of you were part of the success of Milk this weekend at the box office: "Gus Van Sant's 'Milk,' starring Sean Penn, had the best three-day release figures for any film opening in 30 to 40 theaters, said Focus Features executives. That put it ahead of movies like 'Atonement' and 'The Shawshank Redemption.' With $1.9 million in sales, 'Milk' was 10th in the five-day period, ahead of 'Role Models' and 'The Boy in the Striped Pajamas.'"
A fantastic video of the event by Sean Chapin, AFTER THE JUMP…
I've also created a playlist of Chapin's main video and some of the full speeches in the right column of the site.